Skytec Plastics produces DIY Counter Screens for assisting businesses where client / customer and employee / owner health protection are a high priority.
These Counter Screens are made of clear perspex and can be used for the purpose of sneeze shields and sneeze guards.
These Protective Screens are most applicable to Hospitals, Doctor Surgeries, Dentists, Chemists, Banks, Milk Bars, Service Stations, Work Offices, Call Centres, Cafes and many other retail stores.
The Counter Screens / Sneeze Guard Shields are available in Custom Sizes including 2 Types of Shields built to your counter dimensions and include options for finishing.
IMPORTANT: All our Sneeze Guards are Custom Made to your dimensions and available with Cut Outs.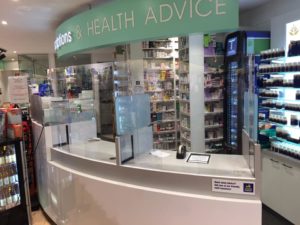 So we can help you with the right options our team require some input on
– dimensions of your counter area   (so please use a tape measure)
– a photo if possible of the counter area
– your dimensions of the Sneeze Guard  (choose from the options)
Noting some quotes will require more than 1 shield.
– your Contact Details
– any further notes
They are easy to assemble and can be deployed quickly.
They can cater for large coverage counter areas and come with fitting kits and the options of serving area cutouts.
Note: Due to the Covid-19 outbreak we are experiencing slight delays but our team are producing local product every day in our local factory!
Made in Australia from Australian Made Plastic.