Skytec Plastics perspex and polycarbonate clear screens can be used for instances of workplace and public health safety.  These screens are Australian Made and made from Australian materials. They form the important role of sneeze guards and sneeze screens.
Skytec Plastics produce a range of options for various safety screen uses. From screens for counters at cafes and bars to receptions at offices, schools and hospitals.
And we also provide semi permanent freestanding options and also fixed screen options. Some can be implemented DIY and for those that require support Skytec provides a screen shopfitting service.  Skytec offers three Screen solutions: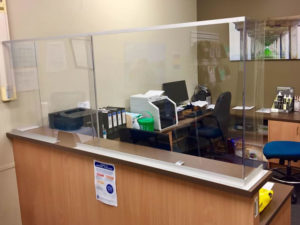 Solution 1 –  Flat Pack Counter and Reception Screens
– Choose from our 3 standard clear perspex semi permanent Sneeze Screens.
Solution 2 –  DIY Counter and Reception Screens
– Most larger Counters and Areas require Custom screens. We hear you. Get a Quote for your custom Screen requirements.
Solution 3 –  Custom Screen Shopfitting
– Peter has fabulous experience in all manner of projects and can oversee your premium requirements.
Further to that Skytec has opened it Screens Showroom on Saturdays to aid in processing orders.  See all the Screen options available including types and variations including fitting etc    And certainly feel free to ask if there is something else you require.
Fitting and Finish
– We have various options for supporting and finishing off screens.
Screen Showroom
– The Skytec Plastics Screens Showroom is open for your convenience on Saturdays.
We managed to set up the guards yesterday (three of us took 45 minutes and it was fun!)

Peninsula Gateway Dental Group